Noise Compatibility Programs at GMIA
General Mitchell International Airport (GMIA) is committed to reducing the effects and exposure of aircraft noise whenever possible.
GMIA has a long-standing history of working with surrounding communities and the airlines to address aircraft noise concerns and remains dedicated to keeping aircraft noise reduction a priority. GMIA continually strives to strike the right balance between the needs of air travelers and the needs of area residents living close to flight paths.
The information below outlines some of GMIA's Community Noise Management Programs.
Milwaukee County's Airport Area Noise Management Program (NMP)
A federal program managed locally by Milwaukee County's General Mitchell International Airport, the NMP is a voluntary program that represents GMIA's commitment to reducing aircraft noise for airport neighbors.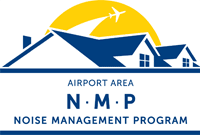 The program can assist single and multi-family dwellings built before October 1998 and located within the noise boundary indentified by the FAA as eligible for participation.
The NMP provides sound mitigation benefits as recommended in the GMIA Federal Aviation Regulation (FAR) Part 150 Noise Compatibility Study.
For more information and to view program eligibility maps, please visit:

Contact Us / Report an Aircraft Noise Event
If you have questions or would like more information, please contact the Airport's Noise Program Manager via one of the following methods:
GMIAs Federal Aviation Regulation (FAR) Part 150 Noise Study
In 2009, the Federal Aviation Administration (FAA) approved many of the proposed recommendations of General Mitchell International Airport's Federal Aviation Regulation (FAR) Part 150 Noise Study, which seeks to modulate the level of aircraft noise in airport-area homes.
Links to the Noise Compatibility Study:
Additional Airport Community Noise Mitigation Program Elements
Updates on Airfield Projects and Flight Patterns
General Mitchell International Airport (GMIA) is always working to reduce the effects of aircraft noise on surrounding communities while also providing for the safe and expeditious handling of air traffic. The GMIA Airfield Update Newsletter is intended to keep you up-to-date on changes that impact standard traffic flow and nighttime noise abatement procedures.
GMIA invites you to sign up to receive the Airfield Update Newsletter via email. Enter your email address below to stay informed on airfield projects that might cause changes in flight patterns or frequency.