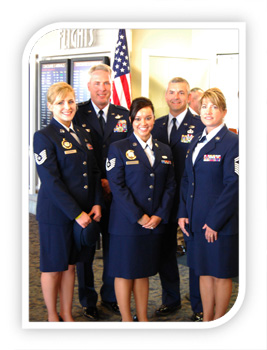 As a special thank you to dedicated service men and women, MKE welcomes the USO Lounge to Concourse D. A retreat for military members and veterans, the lounge provides a comfortable place to watch TV, use the computer, read, relax and enjoy snacks and beverages while waiting for their flight.
The lounge is located across from Gate D30 and can be accessed by military travelers with their boarding pass, regardless of what concourse they are flying out of.
MKE is proud to serve its military community and honored to have the USO Lounge here at General Mitchell International Airport.
Hours Of Operation
8 a.m. - 8 p.m.
7 days a week
(414) 455-8108