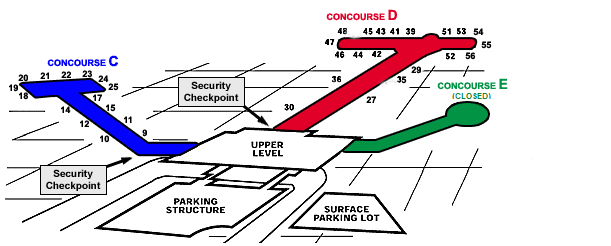 See our Interactive Terminal Guide
Download a Printable Terminal Guide
Please note
If you are connecting from an airline on one concourse to an airline on another concourse, you will be screened at the security checkpoint of your departure concourse.
International flights arrive at the International Arrivals Terminal.
---
Concourse C - Gates C9 through C25
Concourse D - Gates D27 through D56
Ticket Counter Hours
For ticket counter information, including operating hours, please contact your airline.
Click here for a list of airlines and contact information.
Note: Many airlines require credit cards for the payment of checked luggage fees. ReadyCARD machines are available in Ticketing for passengers who need to convert cash into prepaid credit cards.
Traveler's Aid Desk
Centrally located in the main terminal, the Traveler's Aid desk provides a personal face to Mitchell Airport and can be reached by calling 414-747-5245. Travelers Aid assists with a variety of services including:
In-Airport/Passenger Paging
Language Assistance and Translation Services
Non-Discrimination Policy Information
MKE Coat Check Service
Coat check services are available inside the Summerfest Marketplace store, which is located pre-security in the concession mall. Travelers can wear their coats to the Airport, leave them with a friendly attendant in the Summerfest Marketplace, and then claim them after landing at MKE. The location is easily accessible to travelers using any of the Airport's concourses, and will be available to travelers on all flights, seven days per week. The cost is two dollars per day, with a maximum charge of ten dollars. Note: Travelers arriving from international destinations (excluding Canada) will need to take a free shuttle from the International Arrivals Terminal to the Main Terminal to retrieve their coats.
Coat check is available November 1 to April 1.