Whether on the way to see grandma and grandpa, or off to an exciting family vacation, few things bring more smiles to our face then the laughter and smiles of traveling families. We work hard to make traveling as simple and convenenient as possible. Here are a few ammenities we have designed for you and yours.
MKE loves traveling moms, and we know that sometimes nursing moms need a clean, quiet place and a bit of privacy for breastfeeding or pumping. We teamed up with Mamava to install lactation suites in the Main Terminal and Concourse C. Suites include power and USB outlets, fold-down shelf, comfortable seating and a mirror. A nursing room is available on Concourse D.
Locations include:
Main Terminal - Across from Miller Brewhouse
Concourse C - Bronzeville
Concourse D - Near the Children's Play Area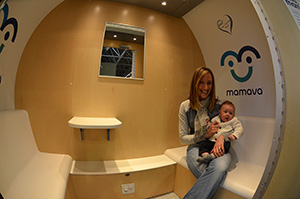 ---
If your little ones need somewhere to burn off a little steam before your next flight, head to our Children's Play Areas located throughout the airport. Filled with aviation themed climb-ons, fun activities and views of the airfield, they are perfect for our youngest fliers.
Locations include:
Concourse C - Across from Chilis
Concourse D - Between Gates D30 & D34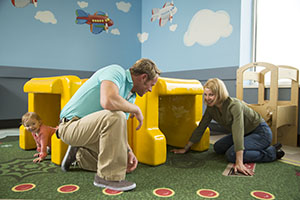 ---
Located throughout the airport, MKE's family restrooms make it easy for traveling familes with special amenities including additional space for luggage and strollers, changing tables, and child size toilets and sinks in some locations.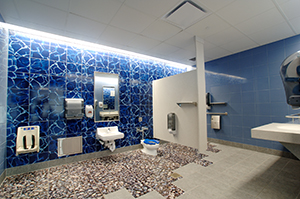 ---
Changing tables are located in all restrooms throughout the airport. Additionally, MKE offers adult-sized, height-adjustable changing stations inside two of our public restrooms found in the Main Terminal and on Concourse D.