Flight Schedules
Trying to decide the best way to get from MKE to Point B? Our interactive flight schedules make it easy to make smart decisions. Whether using the Interactive Route Map & Timetable, Mobile Device Flight Schedule, Printable Flight Schedule or Desktop Flight Schedule, you can access Mitchell Airport's flight schedules wherever you are, 24/7.
---
Interactive Route Map and Timetable
Searching airlines routes and timetables is easier than ever with MKEs Interactive Route Map and Timetable.  Simply select your destination, non-stop or connections, and interact with the live map and timetables to find the flights that work best for you.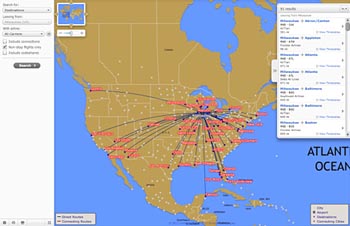 ---
Printable Flight Schedule

Download a copy of the MKE Flight Schedule and view it on your computer. To view online, simply click the link. For offline viewing, right click the link and select "Save As" (Mac Users, option-click). Click on the city in the left hand column to view the flight information for that city's airport. This Flight Schedule is updated monthly.
Note: Viewing the PDF document requires Adobe Acrobat Reader.
---
Desktop Flight Schedule

The Mitchell Airport Desktop Flight Schedule is an off-line itinerary planner that allows you to access Mitchell's Airlines schedules from your PC or laptop when you don't have Internet access. Download the Desktop Flight Schedule. This Flight Schedule is updated monthly.
---
Mobile Device Flight Schedule

Mitchell International Airport's Mobile Device Flight Schedule is specifically formatted for use on mobile phones and devices. The perfect way to check our flight schedules while on the go.  Click here to access.
For easy access, make sure to add our flight schedule to your favorites!