I-94 North-South Freeway Project Updates
As Wisconsin DOT works hard to improve the I-94 North-South corridor, we are working hard to make sure it is as easy as ever to get to and from Mitchell International Airport.
Upcoming ramp and road closures that may affect your travel to or from the airport will be listed here along with convenient detour routes. To assure your travels are as smooth and enjoyable as possible, we suggest that you add 10-15 minutes to your travel time.
For additional information on the Mitchell Interchange project, visit the Wisconsin Department of Transportation web site at Plan94.org.
Milwaukee Airport Spur Restrictions from Downtown Milwaukee
Travelers heading to Mitchell International Airport via I43/94 from downtown and points north will not be able to exit at the Airport Spur (Hwy 119) Exit. Please use Howard Avenue and follow the detour to Howell Avenue. You can also use the Rawson Avenue detour.
This change does not affect travelers using the I-894 Bypass or those traveling to the airport from the south.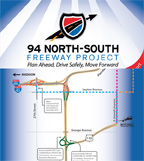 (Download Map)
Traveling to MKE on I-94/I-43 from north (Downtown Milwaukee)
1. Follow I-94 towards Chicago.
2. Exit on Howard Avenue (East).
3. Follow Howard Avenue (East) to Howell Avenue.
4. Turn right (South) onto Howell Avenue.
5. Follow Howell Avenue south to airport on the left.
Departing MKE Heading north on I-94/I-43 (Downtown Milwaukee)
1. Turn right (North) onto Howell Avenue.
2. Turn left (West) onto Howard Avenue.
3. Follow Howard Avenue (West) to I-94/I-43 on ramp.
---