Milwaukee County's Airport Noise Management Program (NMP)
A federal program managed locally by Milwaukee County's General Mitchell International Airport and its agent, CSDA, the NMP is a voluntary program that represents GMIA's ongoing commitment to reducing aircraft noise for airport neighbors. The NMP provides sound mitigation benefits as recommended in the GMIA Federal Aviation Regulation (FAR) Part 150 Noise Compatibility Study. The program can assist single- and multi-family dwellings built before October 1, 1998, and located within the noise boundary identified by the FAA as eligible for participation.
The NMP is a multi-faceted, multi-year program that allows eligible residents to choose one of three noise mitigation program options:
Option 1: Residential Sound Insulation
Option 2: Avigation Easement
Option 3: Sales Assistance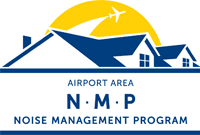 Eligible homeowners are contacted as soon as funding is available for their properties. The program offers services to homes in the order of most impacted by noise to least impacted, as determined by the FAA-approved Part 150 Study.

While the program is offered at no cost to property owners, those who are eligible to participate will be required to sign an Avigation Easement, regardless of which option they choose. The Avigation Easement is a legal document that stipulates the homeowner recognizes aircraft overflight in return for home improvements or monetary compensation.

For more information and to view program eligibility maps, please visit www.aanmp.com.